Spinal cerebrospinal fluid (CSF) leak is an important and under-diagnosed cause of new onset headache that is treatable and curable.
Cerebrospinal fluid (CSF) bathes and supports the brain and spinal cord. When the meningeal layers that hold CSF in around the brain and spinal cord have a hole or tear, this results in a loss of CSF volume. This may result in a range of signs and symptoms, most often a positional headache that is worse when upright and improved when lying down. Many patients are quite disabled by their inability to be functional while upright. Rarely, this can be life-threatening.
We seek to reduce the suffering of those affected by spinal CSF leaks. Education, research and community support are priorities to close the gap between where we are and where we want to be.
Our first Spinal CSF Leak Awareness week is February 26 to March 4, 2017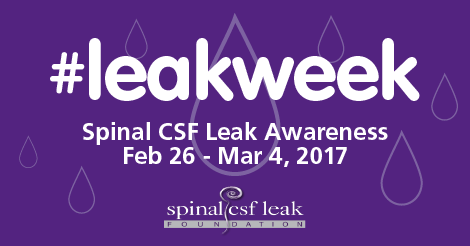 LEARN MORE about the symptoms, causes, diagnosis and treatment.

Have a look at our Resource Documents here.