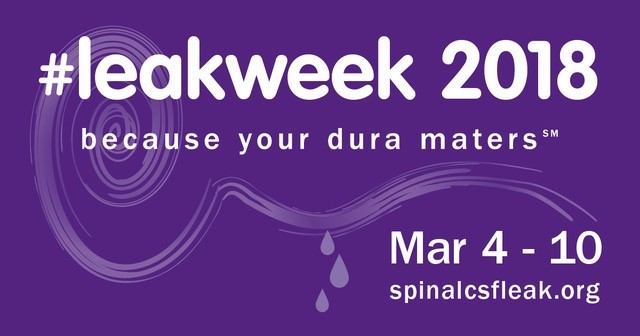 #leakweek 2018
because your dura maters℠
No, it isn't a typo.
dura mater = the tough layer around the brain and spinal cord that normally holds in the cerebrospinal fluid (CSF)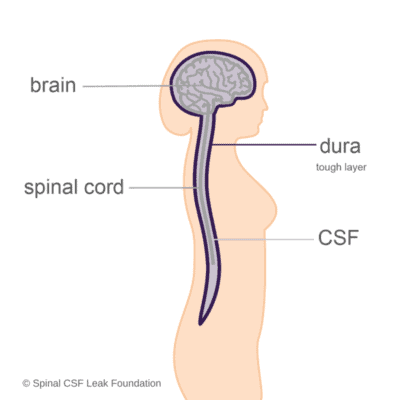 Our theme for #leakweek 2018 is because your dura maters℠
because your dura matters!
We will be raising awareness about intracranial hypotension (low CSF volume/pressure in the head)
which is the result of a hole or defect in the spinal dura mater which leads to a cerebrospinal fluid leak.
The brain and spinal cord need this special watery fluid to function normally.
The most common symptom is headache that tends to be worse after minutes to hours upright.
BUT, there are many other neurologic signs, symptoms and complications.
Yep, this serious disorder occurs because your dura maters℠
During the week of March 4 – 10, we will be providing information to make it easier for you to help us raise awareness of this under-diagnosed and often very disabling neurologic disorder. Earlier diagnosis and treatment is needed to reduce unnecessary suffering. The correct diagnosis offers hope for a cure.
Download + print: #leakweek 2018 factsheet

Check out the landmarks that will be shining PURPLE. And light up your own home or office in purple lights too!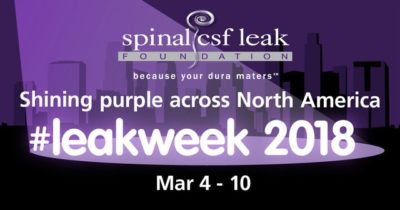 We will be hosting THREE Ask-the-Expert sessions LIVE on Facebook



Wear PURPLE day is March 8



Share your story


During #leakweek 2018, because your dura maters℠
why not share your story to help raise awareness?
Here are two suggested ways to do so:
1) Share your written story on social media and post on the Spinal CSF Leak Foundation Facebook page. Include a photo if you like.
2) Share a short video (max 90 seconds) of your story on social media. Post on the Spinal CSF Leak Foundation Facebook page.
In either method of sharing your story, add these hashtags to your post:
#leakweek #becauseyourduramaters #spinalCSFleak


Check in with us on social media leading up to and during #leakweek.
There is more we have not announced yet!
And get involved!
#leakweek #becauseyourduramaters #spinalCSFleak