Set up an Awareness and Fundraising Event
Set up your own event!
Events have a dual function of both raising awareness and raising funds.
Let's get more undiagnosed diagnosed and fund more education and research.
Feel free to contact us for help using the contact form below.
We have included a list of ideas below, but we encourage you to be creative and come up
with something different.
Email us for detailed guidance.
You can download our trifold brochure for printing as well.
Medical Office Awareness
Awareness of spinal CSF leak remains low among health professionals and the general public. As a result, many patients are misdiagnosed, which can add months or even years to their suffering. Spinal CSF leak is curable for many patients with the right diagnosis and treatment. As a volunteer, you can help raise awareness among staff and patients at the offices of healthcare providers you already visit, by providing information about spinal CSF leak and the Foundation. It is simple and easy. Just print our series of documents and bring them with you on your next visit.
Coffee / Tea Party
Many leakers get temporary relief from consuming caffeinated beverages. If you are not well enough to host, consider asking a friend to host one for you. Invite your friends and contacts. Tell them your story and distribute informational brochures and awareness wristbands. Think about using a purple theme. Ask your guests to wear purple and serve treats with purple icing. Ask them to post selfies and information about spinal CSF leak on social media. Consider asking them to make donations to the Spinal CSF Leak Foundation to fund more education and research.
Stay at Home Tea / Coffee Campaign
This simple campaign is not really an event at all but a great way to raise funds and awareness with your friends and contacts without them having to fit another event into their busy schedules. Did you know that many spinal CSF leakers get temporary relief from caffeine? Use postal mail to send invitations to your family, friends and contacts. Include one of your favorite instant coffee packets or tea bags. Include your story and explain why you are raising awareness and fundraising for the Spinal CSF Leak Foundation. Ask your contacts to enjoy a cup of tea or coffee at their own convenience, read your story and consider making a donation to the Foundation.
Cups4Cures
Plan a hot chocolate and popcorn based event at home or in a high traffic area. Be creative and organize some fun activities. Provide information about spinal CSF leak to raise awareness and sell hot chocolate to raise funds.
5K Walk, Bike, or Run or Charity Sports Game
With the popularity of weekend walk/run events it would be great to get a group of friends to sponsor you or a family member for a spinal CSF Leak team at a walk/run event. As a leak patient, you may not be able to participate but you can definitely get the word out. Collect donations and ask your friends and family to wear purple shirts and spinal CSF leak wristbands in your honor. Include brochures as part of the run package for every participant to raise awareness.
Talent Show
Host a Talent Show in honor of the Spinal CSF Leak Foundation. There is plenty of local talent out there and people just love to perform. Advertise in print and social media and explain that the entrance fees and donations will go to the Spinal CSF Leak Foundation.
Dine For Dollars
Approach a local restaurant or coffee shop and ask if they would be willing to donate a portion of the proceeds during the event period, to the Foundation. Set up a spinal CSF leak information booth and ask your friends and contacts to attend.
Cocktail Party
Host a purple themed cocktail party. Ask your guests to wear purple or provide inexpensive purple Hawaiian leis. Serve purple cocktails, take lots of pictures and post on social media and our Spinal CSF Leak Foundation Facebook page. Explain how debilitating a spinal CSF leak can be and ask them to spread awareness about the condition. Explain how donations are needed to help raise awareness, advance research and improve testing and treatments.
Cupcakes for a Cure / Bake Sale
Ask friends and family to provide baked goods for a bake sale to promote awareness of spinal CSF leak and to raise funds for the Spinal CSF Leak Foundation. Find a location at a community event, local store, or in conjunction with another event. Once you get permission for the event, be sure to publicize through print and social media and ask folks to donate baked goods. Explain how donations are needed to advance research and to help educate the medical community as well as the community at large.
Examples of Third Party Fundraising / Awareness Events held in 2017
June 3, 2017 – 5K Run/Walk – Lakeside Park, Fond du Lac, WI – organized by Patti Walker & Michelle Schmitz
This was a wonderfully successful event.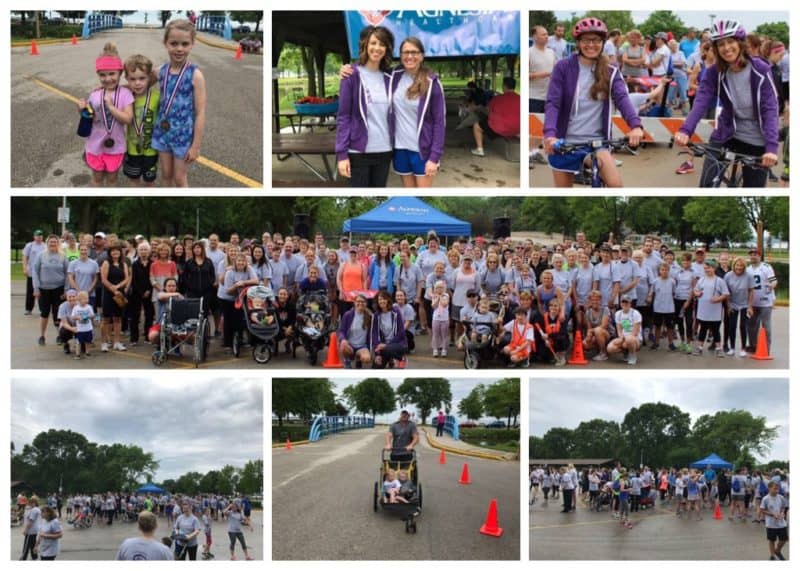 September 30, 2017 – Fore Spinal Leaks Golf Event – Grant Park, IL – hosted by Jayne & Bob Barsic

Other ideas:
Cyclebar
Zumbathon
Skating party
Auction
Harvest Festival
Tournament (Golf, Bowling, Ping Pong etc., local or celebrity)
Movie Night (Outside or inside)
Battle of the Bands
Coupon Books
Challenge Collection (ex. Auburn vs Alabama)
At Home Fund Drive (watch movies, sports events and collect $ at door)
Car Wash
Lemonade Stand
Paper Mobiles
Donation Drive Clothes Collection
Volley for a Cure (competition between school or work place)
Workplace or School Events: (Dress Down Day, Color Day, Sports Team Day)
Share Your Ideas
We would love to hear from your about your ideas and/or your events!
Use the contact form below
Download this document for the above ideas with how-to holding an event.
Awareness + Fundraising How-to



Funds are needed to amplify efforts to raise awareness as well as for educational projects and to fund research.
No contribution is too small.
CONTACT US